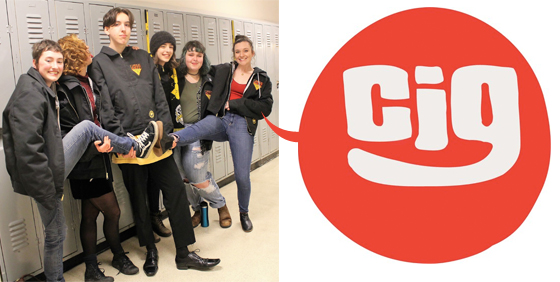 Fundraising:
Not zombies, Improvisers! An improv team of zombies seems like an unlikely occurrence. No one is actively encouraged to shamble, or mutter or drool. My kid's team of non-shamblers got through the regional finals last weekend and is off to Canada's capital in April to represent at the Nationals in the 2017 Canadian Improv Games. We are super proud and very excited because there is nothing more fun, challenging, inspiring and ridiculous than improv. (Mind you, that movie
Don't Think Twice
might lead you to think that Improv is nothing but depressing and soul-destroying. Ugh. Don't watch it. But I digress…) There is a massive fundraising goal to send these kids across the country to Ottawa so they can entertain, compete and
blow minds
. If you feel like helping out an awesome group of wide-eyed, talented teens then
please follow the link
. And thanks!
(photo: Jonathan Argue)
And briefly:
Eye-candying:  "A superb all-paper Hermes showcase in Dubai" (thanks Lliam!)
Anticipating:  In very exciting news, Philip Pullman has unveiled a new novel series, The Book of Dust. Apparently it is set in London and Oxford and overlaps with the fabulous His Dark Materials series. We will even see the return of Lyra, the feisty heroine first introduced in The Golden Compass. Hooray!

Friday Five Favourites – guest-starring Rob Pingle
Farmer's Market Co-ordinator, School Board Trustee and one my oldest friends on Salt Spring.
Most often found on Instagram.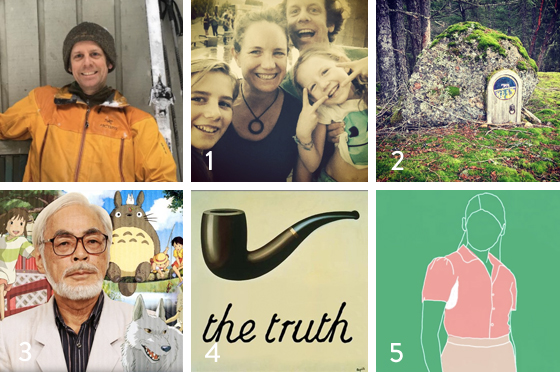 So, Rob is most definitely not undead. He's alive and well, but here's my fancy zombie tie-in; Every Friday afternoon, while our kids are in sewing class, we walk with Rob and his dog Chaz on our nearby trail. We call it the Zombie Trail as it's through the post apocalyptic landscape of a deserted housing development site. As we wander amongst the piles of weed-covered rubble, unearthed concrete septic tanks, and shabby, graffitied worker's trailers, we solve the problems of the world. It's true, we could probably pick a prettier trail, as our island is criss-crossed with them. But we have our timing down perfectly to hoof it around the paths, talk fast, and get back in time to meet the girls in an hour. Okay! Tie-in done. Thanks Rob for taking the time!
1) Family
These are the people that keep me alive! (See? Not a zombie – Editor's note.) Sue was someone I had known for a long time but when she came to visit me in Australia I saw her in a completely different way and fell in love immediately. So many times over the years I've looked at her and gotten that same feeling all over again. Plus she is brilliant and does things that I can't imagine. We are lucky enough to have two amazing daughters. Anything I say about them will sound corny and cliché, but at the same time I love them to pieces. I hope I can be as awesome as they are when I grow up. My family never ceases to amaze me and I thank my parents for preparing me for all this.
2) Outdoors
Living on Salt Spring Island makes it pretty easy to get outdoors and feel like you are really outdoors. That said I also love being outdoors in a city and walking around looking at buildings and where strange things pop up when you least expect them. Having a dog makes it a responsibility for me to get outside on a regular basis so, if you need more of an impetus to get outside, get a dog. You don't really need a spotless house or hairless clothes.
3) Podcasts
These things are amazing! Information or entertainment in your ears when you want it. Here are some of my favourites. The Truth: I can't do better than to go with the description on their webpage as movies for your ears. Headphones are a must. Criminal lives up to its name but in a different way each episode. Reply All uncovers the stories of the people behind the strange corners of the internet.
4) Hayao Miyazaki
I first saw a Hayao Miyazaki film at the Victoria Free-B film festival outdoors in Beacon Hill Park. This was the perfect place to be immersed in Miyazaki's magical worlds. I love that so many of the main characters in his movies are female and that the environment plays a major role as well. A dream trip for me would be to visit the Ghibli Museum where Miyazaki has produced most of his works. I'm also super excited to know he is working on a new film called Boro the Caterpillar!
5) Music
It's always been a part of my life and one of my biggest regrets is not having taken actual music lessons in middle school because I thought the teacher was gay. How stupid is that!?!?! Idiot teenage boy! Never be one! Anyways until I learn to play the accordion I'll continue listening to music and sharing it with friends. So now that I feel like we are friends, here's your fair share. There was a time when I was worried Canadian music wasn't Canadian and would soon be eaten up by America, then I heard the Rheostatics. I still love to rock out to this song. In the grand scheme of things I might not be the man I am if I didn't hear Midnight Oil when I did and end up in Australia where I met Sue. I can't stop without leaving you with something new and fresh! Go listen to John K Samson. If you are disappointed afterwards I might have to reconsider our friendship.

See you next week!
Claire Robertson,
The Small Batch List
Person with a keyboard
xo
p.s. 250 points for guessing the quote in the subject line! Also if you recognise this one, I want you to know that we are probably kindred spirits.
The last week it was Virginia Woolf from To The Lighthouse.
Sign up for free!