Friday Five Favourites: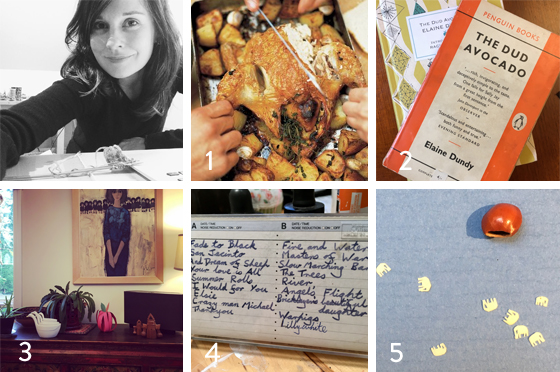 Guest starring: ME
Here's a new segment. First up, this is my own personal list of favourites, just to set the tone. Next week I will include the list of special guest star (friend)… stay tuned.
1) Roast chicken with gravy and veg on a Sunday night.
My favourite recipe is not dissimilar from this Jamie Oliver method. Boiling the lemon is the key!
2) Shabby old penguin classic copy of The Dud Avocado
I love this book. I recently bought a beautifully designed, re-release hardcover as my old paperback is falling apart. Despite the beauty of the fancy new edition, it is the shabby old one from 1960 that I love the best. "Basically, if you were to set Henry James' Portrait of a Lady near the Sorbonne, untangle the sentences and add more slapstick, sex and champagne cocktails, you're getting close." – Rosecrans Baldwin discusses the book on NPR.
3) Corner of my dining room
Including a weird old 60s print that belonged to my grandmother (artist unknown), our painted cabinet from Tibet, SONOS speaker (which would be on my deserted island list), plants that I haven't killed yet, wooden percussion instruments / ornaments that belonged to my other grandmother, a paper apple made by one of my kids and a bunch of geese bowls found at Anthropologie years ago.
4) Mixtape from 1990
Made for me by my friend Dom, who opened my eyes and ears to music. This was one of many mixed tapes for which I am forever grateful. I love some of the titles! Metallica? Black Sabbath? Rush??
5) Tiny little seed and the tiny little elephants carved from ivory that live inside
My childhood best friend travelled the world, and brought this back from India for me when I was 9. The seed is about the size of a cherry pip. Those elephants are about the size of a ladybug wing. I remember he brought himself back a medieval-style chainmail glove from Nottingham after he had visited Sherwood Forest. He was the coolest.